Care of patients with opioid use disorder (OUD) is a natural fit for primary care and its fundamental strengths: respect for the patient, long-term clinical relationships, non-stigmatizing support, a degree of comfort with uncertainty, and a focus on whole-person care.1,2,3,4
All that is missing is a prescription for buprenorphine.
But we know things are not that simple. In 2017, fewer than 10 percent of primary care clinicians prescribed buprenorphine for OUD.5,6,7 Many studies have examined the barriers clinicians face in providing treatment for patients with OUD. Clinicians frequently cite logistical issues, including lack of time and support from staff, concerns about insurance reimbursement, need for prior authorizations, and regulatory factors, as common barriers to providing care for patients with OUD.8,9,10,11 One regulatory barrier, obtaining an X waiver to prescribe buprenorphine for patients with OUD, has been legally removed as of December 2022.12,13
Thousands of people are dying for lack of treatment and yet providers say there is no demand for treatment.14 People with OUD are harmed every day even as they desperately try to access prescribed buprenorphine.15 Adjusted estimates suggest past-year OUD affected over 7.5 million individuals in the U.S., but only 13% received FDA-approved medications.16 How can this circumstance be seen as "lack of patient demand" in primary care? When asked about the drivers of the OUD treatment gap, patients frequently cited stigma, prior negative experiences with OUD treatment, high out-of-pocket costs, and logistical issues, including difficulty finding a buprenorphine provider, provider waiting lists, and delays in buprenorphine initiation.17,18,19Patients anticipate being rejected and do not trust healthcare to work for them.20,21
Low-threshold treatment addresses those deeper barriers that remain. By keeping its focus on patient health and safety, low-threshold treatment emphasizes medication for opioid use disorder (MOUD) through the removal of barriers, which allows profound healing to happen in the primary care setting. To get started, we need patients who trust primary care to help, and clinicians who will do so.
This brief provides an overview of what constitutes low-threshold treatment for patients with OUD, the state of the evidence and patient perspectives on low-threshold OUD treatment, and key steps and strategies for providing low-threshold treatment for patients with OUD in primary care settings. Additionally, this brief outlines recommendations for how policymakers can improve and expand the provision of low-threshold treatment for patients with OUD in primary care settings.
Low-threshold treatment emphasizes removing the barriers common to conventional OUD treatment and ensuring equitable access to care and treatment. Low-threshold approaches prioritize a "medication first" approach to buprenorphine; harm reduction, according to the principles described below in Figure 1; individualized psychosocial support; and caring, long-term clinical relationships.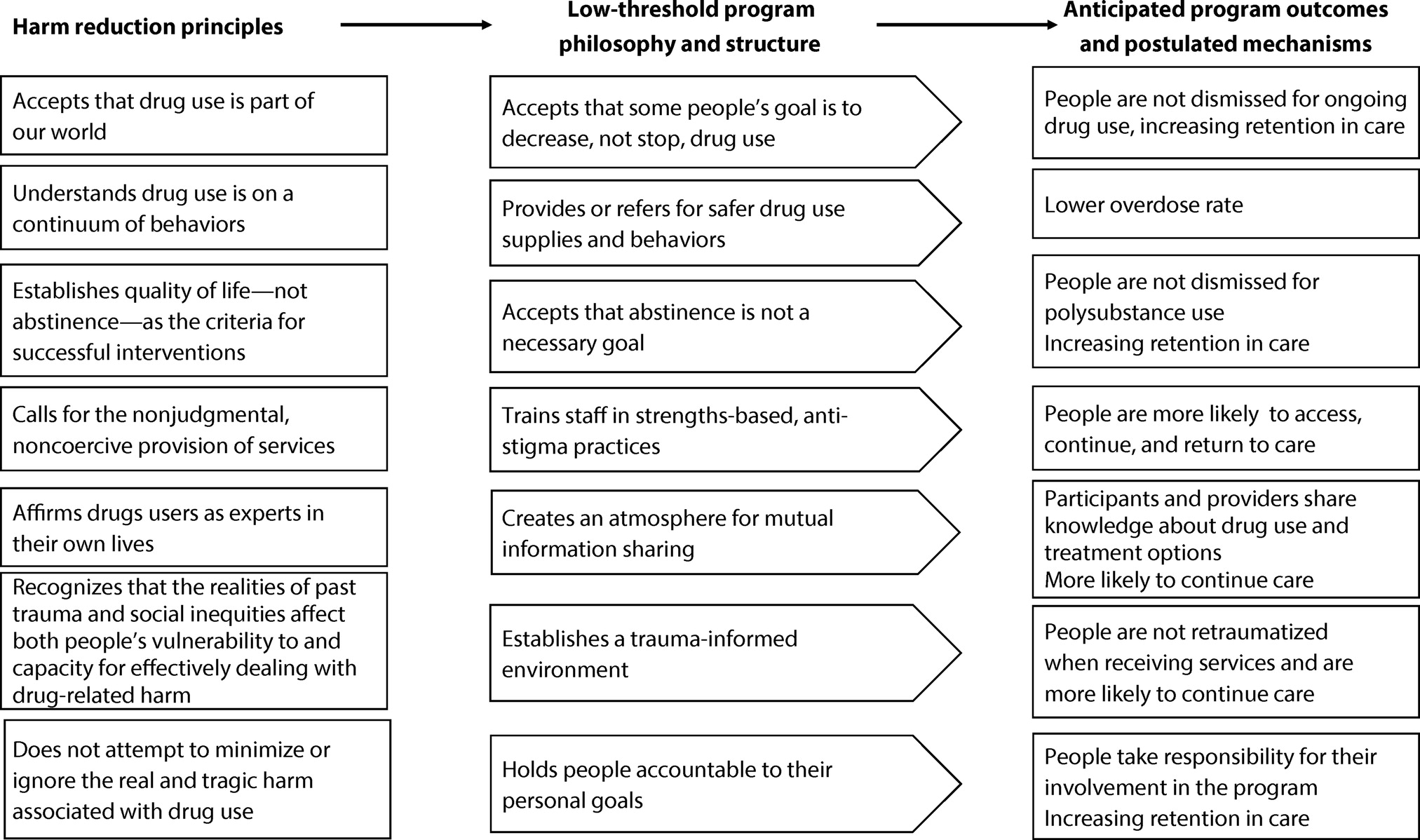 Low-threshold treatment is based on the principles of harm reduction, as shown in Figure 1. Putting this into practice, key components of low-threshold treatment programs for patients with OUD include:22,23,24,25,26
Prompt (same-day) initiation of buprenorphine prior to lengthy assessments or treatment planning sessions.
Maintenance buprenorphine delivery without arbitrary tapering or time limits.
Offering—but never requiring—individualized psychosocial services.
Buprenorphine continuation based solely on the patient's clinical circumstances; positive tests for illicit substances should not result in discontinuation of buprenorphine.
Flexibility in dosing, protocols, policies, and workflows for initiating and maintaining buprenorphine therapy.
Availability in settings that best meet patient needs, such as primary and ambulatory care, mobile treatment sites, syringe exchange programs, and telehealth.
Benefits of low-threshold programs for patients with OUD, as outlined in the final column of Figure 1, include greater access, improved retention, and reduced overdose rate, and are supported by substantial scientific evidence (see next section).
Treatment as usual for patients with OUD too often includes high-threshold practices and rigid protocols, processes, and workflows that decrease retention in care. These approaches have served as barriers to treatment initiation and led to high rates of treatment discontinuation. Over a decade of research on low-threshold treatment for patients with OUD has demonstrated how this approach to care can improve equity and access to buprenorphine, especially for people of color, justice-involved individuals, and people experiencing homelessness, and can have more successful outcomes:27,28,29,30,31
Understanding patient perspectives and expectations is especially important with a stigmatized condition like OUD.57,58,59 Patient satisfaction with a given program is correlated with longer retention in care.60,61 Several studies have documented that patients appreciate low-threshold care, specifically the following aspects:
1. If Nothing Else, Start Prescribing Buprenorphine
There is no reason that buprenorphine should not be a normal part of primary care practice. Buprenorphine is an effective medication that saves lives, reducing the likelihood of overdose death for people with OUD by 82 percent.74,75,76 While psychosocial and behavioral therapies can be beneficial in conjunction with buprenorphine treatment, good outcomes can also be achieved from buprenorphine treatment without them.77,78,79Even with increased prescribing rates, misuse and diversion of buprenorphine remain low.80,81,82 Treating OUD the same as any other chronic medical condition with a proven effective treatment means prescribing buprenorphine; here is how to get started:
Start prescribing buprenorphine - Buprenorphine no longer requires any special training or registration. Any clinician with a current controlled substance registration can prescribe buprenorphine for OUD for as many patients as desired.83 The removal of X-waiver requirements by Section 1263 of the 'Consolidated Appropriations Act of 2023' has made it easier for primary care clinicians to treat OUD.84
Support the use of patient-centered buprenorphine treatment approaches - Taking a shared decision-making approach to starting buprenorphine can be helpful in getting patient buy-in, leveraging their own experience, and respecting their personal goals. It is important to note that low-threshold induction options for getting patients started on buprenorphine can be more challenging when transitioning patients from fentanyl use versus prescription opioid or heroin use—learn more in Considerations for Transitioning from Fentanyl to Buprenorphine, Practice-Based Guidelines: Buprenorphine in the Age of Fentanyl (PDF – 1,646 KB), and Practical Tools for Prescribing and Promoting Buprenorphine in Primary Care Settings (PDF – 25.2 MB). There is currently no "best option" for transitioning from fentanyl to buprenorphine. Options for starting buprenorphine include:

Prescribing low-dose (also referred to as microdosing) buprenorphine, described in this systematic review of microdosing initiations, helps to support individualized treatment and reduces side effects and withdrawal symptoms.
Prescribing high-dose (also referred to as macrodosing) buprenorphine, like in these California emergency departments, addresses withdrawal symptoms more rapidly, helps remove barriers to short-term medication access, and extends the duration of action of buprenorphine. Compared to conventional buprenorphine doses, higher doses of some buprenorphine/naloxone combination products and buprenorphine monoproducts appear to improve retention in treatment.85 However, be sure to check your state's regulations regarding buprenorphine monoproducts, as some states have restrictions on their use.86,87,88,89
Implementing rapid induction on extended-release buprenorphine, like in this Massachusetts General bridge clinic and this clinic in rural Alaska, can reduce the need for daily dosing, enhances patient adherence and convenience, reduces some of the need for drug testing, and eliminates concerns of diversion. However, extended-release buprenorphine is costlier than the other buprenorphine types and is more difficult to access.90,91

Remember to be flexible in dosing and to continue prescribing - Eliminating policies that discontinue buprenorphine treatment during pregnancy, ongoing substance use, and acute pain management or that place arbitrary limits on buprenorphine—as some patients may need doses up to 32mg (or in rare cases beyond 32mg) due to the level of tolerance to high-potency opioids people can develop—are other ways to help people access and stay on buprenorphine.
2. Then, Get Your Team to Prescribe Buprenorphine
Encourage others on your team to prescribe buprenorphine - Clinician stigma and misconceptions get in the way of MOUD prescribing, and contribute to negative experiences for patients with OUD and other substance use disorder (SUD).92,93,94,95Staff training and education are important tools for addressing common myths and concerns related to the diversion or misuse of buprenorphine, the need for concurrent psychosocial and behavioral therapies with MOUD, and the fear of triggering a federal investigation when prescribing buprenorphine. Providing motivation, education, and training for the entire care team—such as making stigma reduction a key part of a practice's mission, offering staff shadowing opportunities, and conducting anti-stigma educational training like REACH Medical—can address stigma and dispel myths. There are several training and educational resources available, including this organizational action plan (PDF – 60.6 KB), these interactive training modules, this conversation starter guide, and this addiction language guide (PDF – 1,114 KB). It is also vital that clinical and non-clinical staff, from the highest levels of practice leadership to the front desk and security staff, participate in these educational initiatives in order to assure ongoing and reliable support for low-threshold care.96
3. Then, Work on Making Your Practice More Welcoming for People with OUD
Start removing or amending high-threshold practices and rigid protocols, processes, and workflows that decrease initiation and retention in OUD treatment in favor of low-threshold options that improve enrollment and retention rates.97,98,99
4. Remember to Address Other Healthcare Needs Once Patients with OUD Stabilize
Harm-reduction principles emphasize preventing overdose and infectious disease transmission; improving physical, mental, and social wellbeing; and offering low-barrier options for accessing healthcare services. It also recognizes that there are many ways to provide treatment for patients with OUD that may not include or may go beyond MOUD. Providing treatment services that engage people along the spectrum of engagement in MOUD will provide valuable opportunities to address co-occurring health problems, build relationships, and provide community that may one day lead to starting MOUD.
5. When Possible, Do What You Can to Promote Care in Other Settings
High social needs and complex healthcare needs can create additional barriers for people with OUD and necessitate the implementation of additional services and supports outside of the walls of primary care practices. Understanding this:
Provide on-demand OUD treatment and support using telehealth - National survey data found that during COVID, people with OUD were far more likely to receive treatment through telehealth.119 Receiving MOUD via telehealth was associated with improved treatment retention and lower odds of medically treated overdose.120 Telehealth for patients with OUD treatment can be video or telephone-based, like with this telephone consultation service, this virtual bridge program, and the Veterans Health Administration's virtual delivery of buprenorphine. OUD treatment support can also be provided via smartphone and computer-based behavioral health apps. This telehealth toolkit (PDF – 2.8 MB) provides guidance for getting started with telehealth for OUD treatment. It is important to note that the full set of telemedicine flexibilities granted during the COVID pandemic only extends through November 2023.121 
Expand OUD treatment services into non-traditional settings - Offering OUD treatment in syringe exchange programs, mobile health clinics, shelters, and on the street – such as with Connecticut's drop-in centers (PDF – 370 KB), San Francisco's Street Medicine Team (PDF – 3.8 MB), Baltimore City's Spot mobile clinic, and these bridge clinics—can help meet people with OUD where they are and engage them in care.
Primary care is well-suited for treating patients with OUD due to its patient-centered approach and the urgency of prescribing buprenorphine. Despite the removal of certain barriers, such as the X waiver requirement, perceived low patient demand and clinician reluctance to prescribe buprenorphine is contributing to thousands of deaths every year due to untreated OUD. Low-threshold OUD treatment in primary care settings can address the stigma, fear of rejection, and distrust of healthcare that prevent people with OUD from seeking and staying in treatment.
The defining characteristics of low-threshold treatment for patients with OUD are access to care through prompt (same-day) buprenorphine initiation, flexible maintenance without arbitrary limits, psychosocial support that is available but not required, clinical decisions based on patient circumstances rather than drug tests, adaptable protocols, and accessibility across various healthcare settings.
Low-threshold treatment approaches have demonstrated similar or improved enrollment, retention, and outcomes when compared to the high-threshold practices and inflexible protocols of treatment as usual for patients with OUD and have not resulted in misuse or diversion of buprenorphine.
Patients appreciate the elements of low-threshold care, including reduced intake procedures, fast treatment access, and non-stigmatizing and individualized care that does not require abstinence.
Working towards delivering low-threshold treatment for patients with OUD is best pursued after a clinic has already been offering buprenorphine for OUD. This will provide a framework for clinics to work from and the needed perspective to start to identify and address stigma and other barriers.

Once primary care providers are prescribing buprenorphine, they can more easily shift from high- to low-threshold practices and policies that make primary care practices more welcoming for patients with OUD.
After amending practices and policies, primary care clinicians are well-positioned to provide comprehensive care for patients with OUD, including addressing infections, chronic illness, mental health care, and general preventive care; overdose prevention support and tools; and linking to community-based assistance and support.
Lastly, primary care clinicians can expand access to low-threshold treatment for patients with OUD even further by meeting people where they are in the community and by providing OUD treatment via telehealth.
Considering the positive health outcomes of low-threshold care and the substantial gap in available buprenorphine treatment for people with OUD, policy groups and researchers are urging federal and state policymakers to examine relevant existing rules and regulations and remove those that hinder access to life-saving medications. Policy groups and researchers recommend several changes, including: