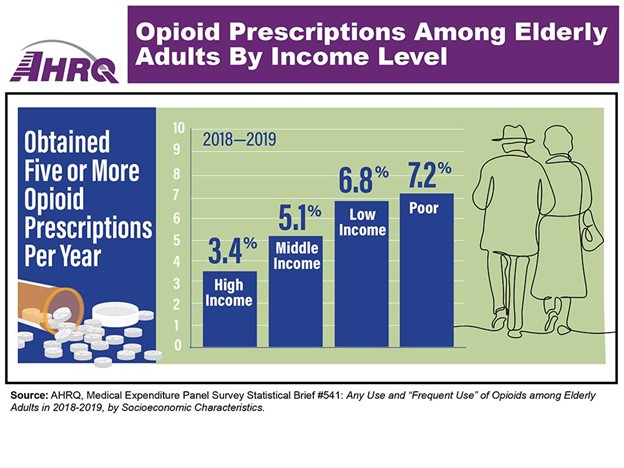 The Agency for Healthcare Research and Quality (AHRQ) has released new resources and data on opioid use among elderly adults (ages 65 and older).
The latest

Medical Expenditure Panel Survey statistical brief

provides estimates of prescription opioid medications filled or refilled by elderly adults in the U.S. in 2018-19.
A new

data infographic

(pictured above) shows that in 2018-19, the frequent use of opioids was more common among elderly adults who were poor, low income, or middle income compared with high-income elderly adults.
A new

interactive data visualization

shows opioid use among elderly and non-elderly adults during 2015-16 and 2018-19, and can be filtered by sex, race/ethnicity, poverty, insurance coverage, health status, region and metropolitan statistical area.
For more information on the data used in these tools and resources see:
Explore more about AHRQ's Older Adult Opioid Initiative.